Technologies in Biomedical and Life Sciences Education
Approaches and Evidence of Efficacy for Learning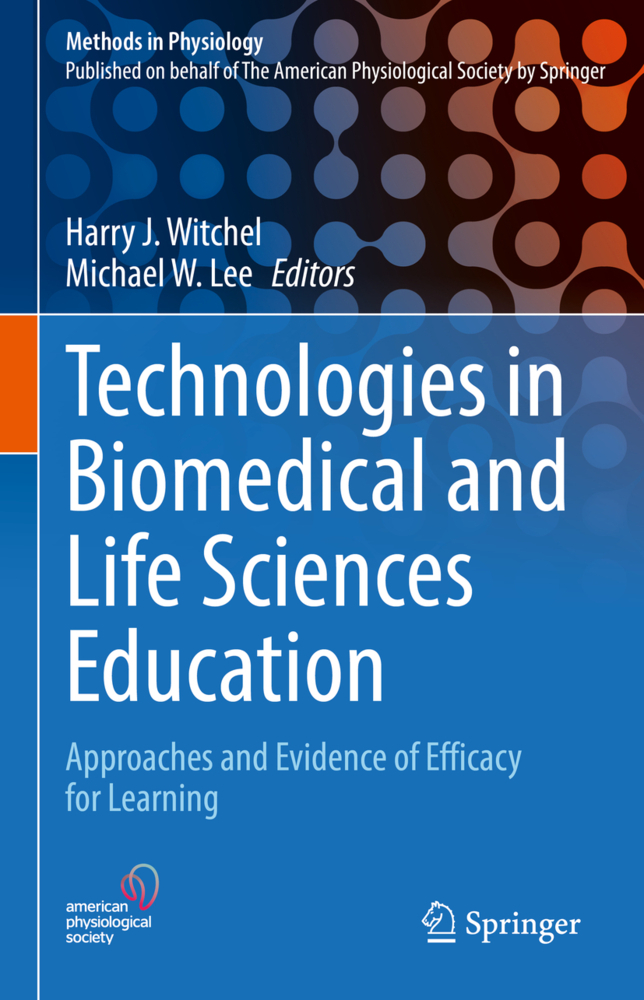 Technologies in Biomedical and Life Sciences Education
Approaches and Evidence of Efficacy for Learning
This contributed volume focuses on understanding the educational strengths and weaknesses of mediated content (including media as a learning supplement), in comparison to traditional face-to-face learning.  Each chapter includes research on, and a broad-brush summary of, approaches to combining life sciences education with educational technologies. 
The chapters are organized into four main sections, each of which focuses on a key question regarding the consequences of incorporating media into education. In this regard, the authors highlight how educational technology is both a bridge and barrier to student access and inclusivity. Further, they address the ongoing discussion as to whether students need to be present for lectures, and on how having agency in their own learning can improve both retention and conceptual understanding. To link the content to current events, the authors also shed light on the impact that the COVID-19 pandemic is having on the continuity of educational programs and on the growing importance of educational technologies. 
Consequently, the book offers life science educators valuable guidance on the technologies already available, and an outlook on what is yet to come.
<p><b>Technologies in Biomedical and Life Sciences Education:</b></p><p><b>Approaches and Evidence of Efficacy for Learning</b></p><p><b>Contents</b></p><p><b>Part 1: Introduction and Educational Context</b></p><p><b>1. Introduction: Intentional Innovation in Educational Technology and Media to</b></p><p><b>Promote Students' Holistic Development</b></p><p><b>Michael W. Lee & Harry J. Witchel</b></p><p><b>2. Technology, Equity and Inclusion in the Virtual Education Space</b></p><p><b>Cynthia Taylor, Bryan Dewsbury, Cynthia Brame</b></p><p><b>3. Institutional Culture of Student Empowerment: Redefining the Roles of Students and</b></p><p><b>Technology</b></p><p><b>Heeyoung Han, Maria Mosley, Ilhuoma (Yvette) Igbokwe, Shelley Tischkau</b></p><p><b>4. From Psychology Laboratory to Student Development: Untangling Momentary</b></p><p><b>Engagement from Longer-term Engagement in Bioscience Education</b></p><p><b>Harry J Witchel, Rudi Klein, Puspha Sinnayah, Joseph Rathner</b></p><p><b>Part 2: How Educational Technologies Shape the Classroom Experience</b></p><p><b>5. Perceptual Learning, Adaptive Learning, and Gamification: Educational</b></p><p><b>Technologies for Pattern Recognition, Problem Solving and Knowledge Retention in</b></p><p><b>Medical Learning</b></p><p><b>Philip J. Kellman, Victoria Jacoby, Christine Massey & Sally Krasne</b></p><p><b>6. The Flipped Classroom: A Guide to Making Evidence-Based Decisions about</b></p><p><b>Implementation</b></p><p><b>Michael W. Lee and Andrew C. Butler</b></p><p><b>7. Supplementary Videos in the Biosciences: How Stakeholders Can Reinforce</b></p><b>Complex Concepts for Self-Directed Learners</b><p></p><p><b>Richard Guy & Harry J. Witchel</b></p><p><b>8. Aligning assessment goals with the current and future technologies needed to achieve</b></p><p><b>them</b></p><p><b>Melanie M. Cooper & Michael W. Klymkowsky</b></p><p><b>9. The Use of Video, Audio and E-portfolios to Provide Feedback</b></p><p><b>Sabine G. Uijl & Renée M. Filius</b></p><p><b>10. Academic Cheating: How Can We Detect and Discourage It?</b></p><p><b>John C. McLachlan & Izabella Penier</b></p><p><b>Part 3: How Educational Technologies Transcend the Classroom</b></p><p><b>11. DEBATE PART 1: Attendance and Performance: a New Landscape in the Era of</b></p><p><b>Online Teaching</b></p><p><b>Louise Robson & Christine A. Kauffman</b></p><p><b>12. DEBATE PART 2: Lecture Capture, Attendance and Exam Performance in the</b></p><p><b>Biosciences: Exploring Rare Exceptions to the Link Between Attendance and</b></p><p><b>Performance in the Era of Online Teaching</b></p><p><b>Harry J. Witchel, Richard Guy, Christopher Torrens, Kenneth Langlands, Sheila A.</b></p><p><b>Doggrell</b></p><p><b>13. Online Science Education at Scale: Open and Distance Learning, MOOCS, and</b></p><p><b>Other Learning Assets for Theory and Practice</b></p><p><b>Peter Alston, Terry L. Gleave, Mark C. Hirst, and Hilary A. MacQueen</b></p><p><b>14. Social Online Learning: Leveraging Social Media and Web-Based Co-Creation to</b></p><p><b>Drive Learning</b></p><p><b>Emma Rengasamy and Duncan Cole</b></p><p><b>15. The Role of Educational Technology on Mitigating the Impact of the COVID-19</b></p><p><b>Pandemic on Teaching and Learning</b></p><p><b>Sandra Arango-Caro, Lisa L. Walsh, Emma R. Wester, and Kristine Callis-Duehl</b></p><p><b>Part 4: The Future and Research</b></p><p><b>16. The Unpredictable Future of High Fidelity Patient Simulation in Biomedical Science</b></p><p><b>Education: the Price Must Be Right</b></p><p><b>David M. Harris and Daniel Franceschini</b></p><p><b>17. The Future with Extended Reality, Three-dimensional and Advanced Imaging for</b></p><p><b>Molecules, Microscopy and Anatomy</b></p><p><b>John Barrow</b></p><p><b>18. The Future of Biomedical and Life Sciences Education: Evidence-based Future</b></p><p><b>Directions</b></p><p><b>Kristina Lisk, Maria Mylopoulos, Nicole N. Woods</b></p><p></p>
| | |
| --- | --- |
| ISBN | 978-3-030-95632-5 |
| Artikelnummer | 9783030956325 |
| Medientyp | Buch |
| Auflage | 1st ed. 2022 |
| Copyrightjahr | 2022 |
| Verlag | Springer, Berlin |
| Umfang | XVI, 580 Seiten |
| Abbildungen | XVI, 580 p. 77 illus., 61 illus. in color. |
| Sprache | Englisch |